Description

Keep mobile devices going with a portable power bank that's much more than a battery. It's a marvel of design and engineering: ultra-light and stylish, with a hairline brushed aluminum surface and precision-cut angles that lend the case a diamond-like look. Inside is a 10050mAh power source with two USB ports totaling 3.1A for fast simultaneous top-up of smartphones, tablets, and other devices. Synced charge/discharge makes this a very fast power bank that saves you precious time and improves overall safety and efficiency.
Big capacity at the ready
Work and travel free from worrying about running out of power. With 10050mAh, you get a full 3.7 charges for a device like the iPhone whenever needed, standing by to top-up batteries quickly.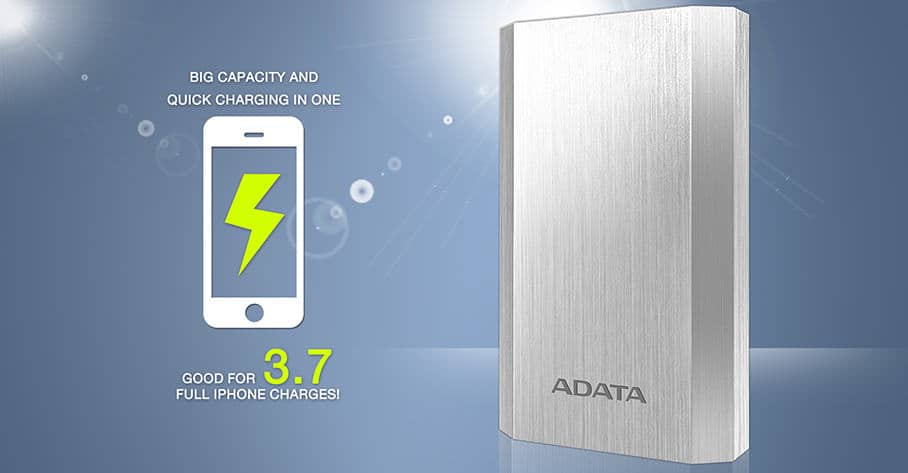 Bright and clear LED status indicator
The A10050 keeps you always informed. Its LED indicator is very prominent in the sleek design and stays constantly up to date so you're in the know. It shows you when the power bank is on, when it's charging and discharging, and most importantly the current battery level, including a "low charge" caution light.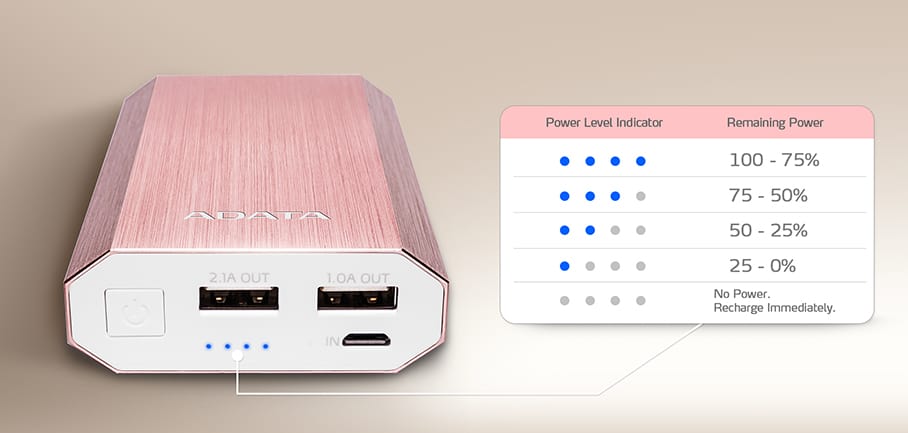 Dual USB ports recharge two devices at once
Why settle for charging one device at a time when you can recharge two at once? The A10050 has twin USB ports, one rated 1A (ideal for smaller devices like smartphones), and the other 2.1A – which is excellent for tablets. This doubles charging efficiency and drastically reduces potential down time, helping you keep more devices powered.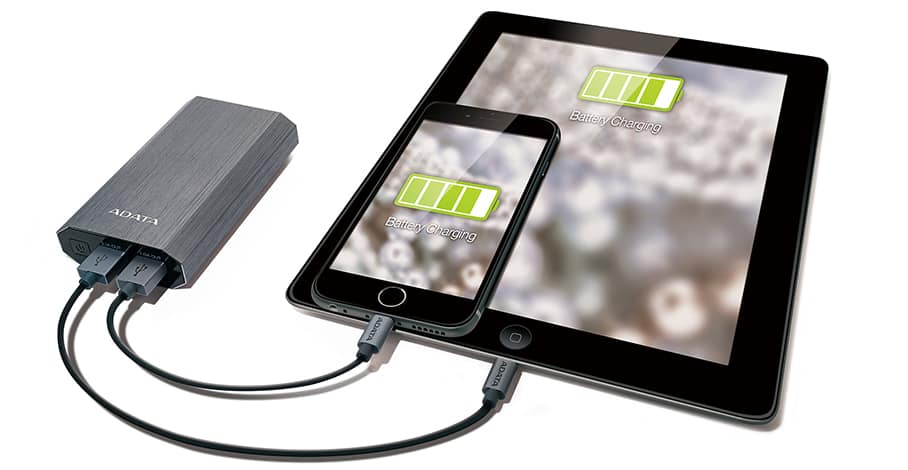 Synchronous charge/discharge
Basic and lesser power banks require separate charge and recharge cycles, extending the total time it takes your devices to get recharged. Smart ADATA engineering results in synced charging and discharging to accelerate operation and make the A10050 power bank much safer, as well.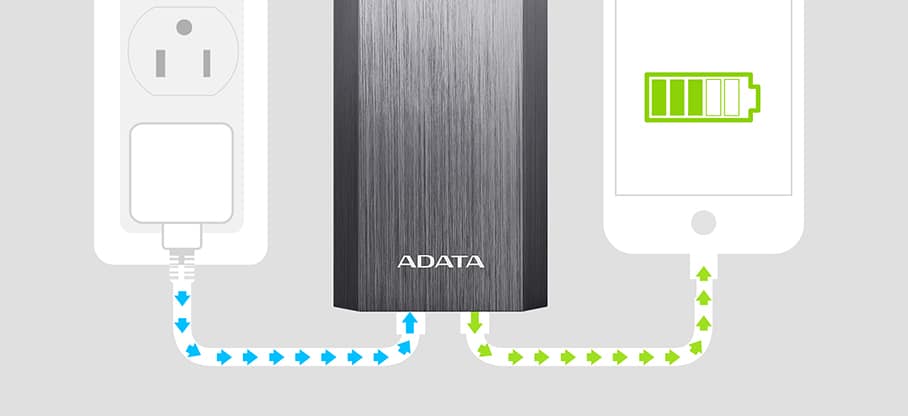 Finest quality components
We ensure superior power bank efficiency, stability, durability, and safety by using only the best components and carrying out extensive testing. From sophisticated internal circuitry and wiring to a fire and impact-resistant outer shell, the A10050 is designed for long-term, reliable service.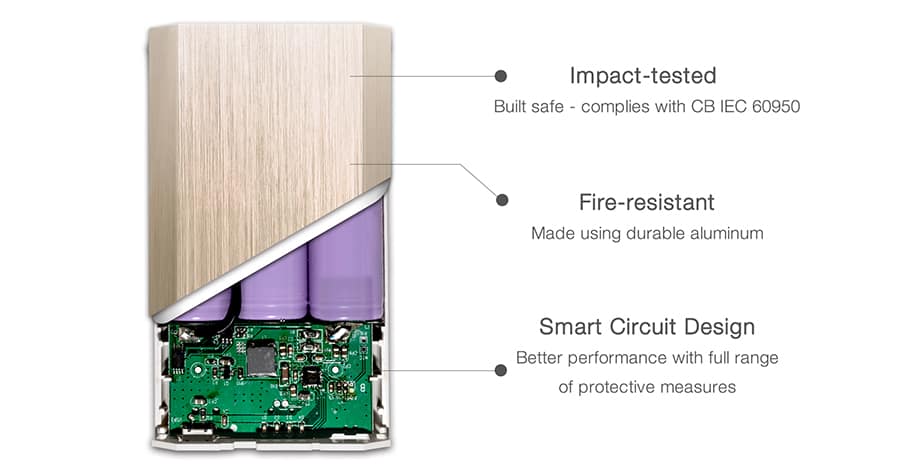 Multi-circuit protection
At ADATA, safety is priority one. The A10050 power bank integrates multiple protective measures against excessive charge, discharge, voltage, heat, current, and short circuiting. Six dedicated heavy-duty and intelligent counter measures keep you, your environment, and devices safe without compromising performance.
Choice of snazzy colors
Bye bare practicality, hello boutique elegance. The A10050 is the power bank for those wanting more than just a battery. Available in gold, silver, titanium grey, and rose gold, it's the style peer for the most posh smartphones and tablets. Take your pick and upgrade the chic factor of your mobile device collection.
Style in fit-all size
While packing 10050mAh and loaded with advanced features, the cleverly-crafted A10050 power bank is also light, and compact. It's exceedingly easy to pick up and go, fitting effortlessly in everything from pockets to purses.
Outstanding hairline-textured surface
The A10050 chassis uses durable and gorgeous aluminum with a meticulously-etched brushed hairline texture. Combined with sleek angles, the fine materials and texture of the A10050 truly signal its diversity as a power bank that's also a true fashion accessory.