Description
Downunder Media Liquid Defense Plus 16x DVD OPTODISC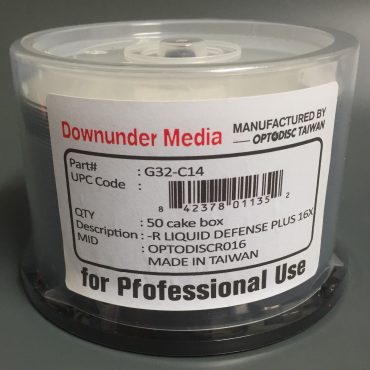 Downunder Media's Liquid Defense Plus is a special water and scratch resistant inkjet printable coating applied to a whole range of recordable CD`s, DVD`s and Blu-ray discs. It works on all known optical disc inkjet printers and gives the printed disc a very vibrant color with a high gloss finish.
          2. The Liquid Defense Plus disc is water resistant, scratch resistant and resists fading, whereas regular inkjet printable discs will bleed or smear when wet, easy to scratch and has a muted matte finish when printed.
          3. The Liquid Defense Plus application is an actual coating that is applied during the media manufacturing process.
           4.It is not a sticker or label that is applied after the fact like other less reliable inkjet printable discs.
Inkjet printable 4.7 GB of storage capacity on a single-sided disc.
50pcs cake
Best Quality for Glossy and Waterproof disc
Ideal for archiving home movies and data
Print area 22mm to 118mm – no top stacking ring
Liquid Defence Surface
DVD BLANK MEDIA
OPTODISC DVD-R recordable media has long been used around the world as a great inexpensive blank media. Vinpower brought back the brand to fulfill the many previous and new customers that could benefit from the strong quality and low price points. Vinpower manufacturers the OPTODISC media in Taiwan, utilizing the original production formula, to ensure superior compatibility and playback when recorded. Because the OPTODISC brand was established during the early stages of recordable DVD-R duplication, it is compatible with a wider range of drives, including the older drives that may not be familiar with many of the newer media brands that were not available at the time.
When you're looking for quality DVD-R media with superior compatibility at a great price point, the OPTODISC line of DVD-R media is your best bet.