Description
Epson Discproducer PP-100III -The Professional CD/DVD/BD disc publishing system
Overview
Built with Epson's advanced robotics and printing technologies, this compact, integrated disc publisher has all the features you need to burn and print up to 100 (per batch) high-quality customised CDs, DVDs or BDs unattended and on demand. It is ideal for a wide range of businesses such as service bureaus, educational institutions, photographers, software and IT companies, governments, corporations, medical organisations, etc.
FEATURES & BENEFITS
Unattended production of CDs and DVDs or BDs, 100 disc (batch) capacity

AcuGrip™ technology minimises two-disc feeding

Highest quality printing with Epson renowned MicroPiezo® print head technology

Six individual, high capacity ink cartridges with low-ink sensors

Easy maintenance – disk drives and waste ink tanks can be replaced onsite by users

Label printing up to 65 discs/hour

Economical to operate and compact rugged construction for top reliability

Easy-to-use software with label templates

Free warranty upgrade to On-site warranty in capital cities with product registration
Compatible with Mac and Windows OS
Advanced RoboticsThe Discproducer's robotic arm with patented AcuGrip™ technology ensures that only one disc is placed in the drive or printer at a time, eliminating dual feeding that can damage drives and interrupt unsupervised production runs.
Best-in-class printingThe Epson Discproducer features a built-in Epson inkjet printer with Epson's patented MicroPiezo® technology. Using six colours instead of the common four, it delivers the highest print quality available in its class for crisp, clear text and vibrant graphics at up to 1440 x 1440 dpi resolution. And with just one set of high-capacity ink cartridges, you can print over 1,000 discs. In addition, ink level status is shown with LED readout for each colour to prevent printing without ink.
Easy Maintenance with Field Replaceable ComponentsIn addition to all of the advanced features and industry-leading reliability, Epson has specifically designed the PP-100III so that worn or damaged disc drives (individually or in pairs) and the waste ink maintenance tanks can be quickly and easily replaced on site by end users. This ensures maximum uptime and means it is no longer necessary to send PP-100III units in for this particular servicing.
Best-in-class Cost Per DiscThanks to Epson's individual inks system, the cost of each produced media is low as you only need to replace the colour used and, depending on the print image, you can produce over 1,000 discs from one set of cartridges. And when a cartridge becomes empty, the Discproducer automatically stops printing until it's replaced to avoid miss-prints.
The Epson Discproducer also provides you with more affordable disc duplication and printing. Cost per Disc calculations are based on Epson's Internal Testing with a set of new ink cartridges. For further details please see Disc yields page.
Software Simple As 1, 2, 3Epson's comprehensive Total Disc Maker software lets you quickly compile your data, create labels and configure the production process all in one easy-to-use application. It also includes a program that displays the status of all jobs and devices. The bridge tool (downloadable via the website) allows you to communicate with other applications.
Backed by EpsonWith Epson's expertise in precision robotics and advanced printing solutions, you can be sure that Discproducer comes with the quality and reliability that Epson is known for. And it is backed with Epson's leading service programs and  one year RTB warranty. Free upgrade to On-site warranty (capital cites only) is available on product registration. For further details see Epson Warranty.
TECHNOLOGY

AcuGrip™ Built to PerformUnlike other disc publishers, the Epson Discproducer features patented AcuGrip picking technology which ensures that only one disc is placed in the drive or printer even if two are stuck together. The arm has a guide that places it in the centre of the disc. Then three independently powered fingers extend to separate the top disc from the remaining discs. Finally the peel off lever (or kicker lever) lifts the top disc for transportation. If more than one disc is lifted, they will be put in the reject stacker or the system will indicate an error has occurred. This technology not only increases the life of the product, but helps protect against the interruption of unattended production runs due to mechanical blockage.

Micro Piezo Print HeadMicroPiezo® print heads are at the heart of every Epson ink jet printer. These print heads spray ink through microscopic nozzles, or holes on the print head. Each of these nozzles has tiny, piezo electric elements, which vibrate tens of thousands of times per second, allowing the nozzle to fire ink droplets onto the disc at extremely rapid rates. No heat is involved in the printing. This ensures greater accuracy when firing ink droplets precisely onto the disc. And, it gives the printer greater control over ink droplet size. MicroPiezo technology ensures uniform, stable ink droplets with virtually no satellites or misting all of which means you get the high quality results you'd expect from Epson.
Building on the Strength and Experience of Epson RoboticsWhen you build industrial robots, you learn about quality, reliability and precision engineering. And Epson is a world-leader in the design, development and manufacture of such robots as for medical technology and airbag testing. That's why our other products are so reliable – because they are built on the platform of knowledge and experience gained from the robotics environment. The Epson Discproducer™ is a perfect example. Its compact design, coupled with its dust-proof body and a minimum of moving parts, delivers precision performance, superb reliability and amazingly low running costs.
SOFTWARE
Discproducer comes with all the software you need to get the job done. Discproducer's easy-to-use Total Disc Maker Software includes disc editing, label editing and publishing functions. Simply select your data, design the label, configure the run, click "Publish" and you are done. Best of all, you don't have to be an expert to use the software. All it takes is a few easy steps.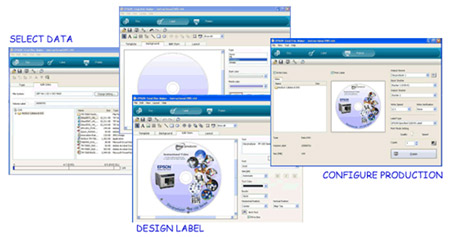 1.   Select Data
Epson's Disc Editing Software is easy to use. Simply select the media format, then drag, drop, and burn.
2.   Design the Label
Use your own design or start with one of the many pre-defined templates and images provided. Then use the label editing tools to customize the label to your satisfaction. The preview display allows you to check your composition and save your work for easy retrieval in the future.
3.   Configure Production
There are just a few steps before you're ready to publish. Epson's software leads you through the process, helping you to set the parameters such as the number of CDs, DVDs and BDs to be burned, the burning and print speed, the input/output trays for discs and print resolution. Then simply click "Publish" and your production run is underway.
4.   Monitor Production
Epson's Total Disc Monitor Software keeps you informed about the status of all the important functions of the Discproducer as well as any current and pending jobs.